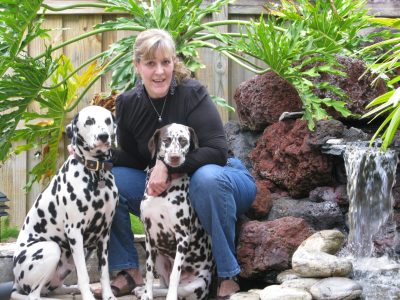 Cyndy Lovallo, ABCDT, CNWI, CPDT-KA
Cyndy has a deep love for all animals. Dogs have always been a big part of her life. It was her own dogs who sparked her interest in training.

This interest inspired her to become certified first through Animal Behavior College. She graduated with honors in 2010 becoming an Animal Behavior College Dog Trainer (ABCDT).

This led to a thirst for more. While interning at a local training facility, to become a Certified Professional Dog Trainer - Knowledge Assessed (CPDT-KA), Cyndy also got a taste of K9 Nose Work and fell in love with the sport/activity. She then entered the Certified Nose Work Instructor (CNWI) program taught by the founders of the National Association of Canine Scent Work (NACSW). She obtained certification as an instructor in 2013.

Cyndy continues to further her education by attending K9 Nose Work Training Camp annually to learn from some of the best instructors around the country. She also attends seminars and webinars to gain new information from Nationally and Internationally revered speakers.

Cyndy competes with her Dalmatians in Nose Work in both NACSW and AKC events.

Her goal is to help you to build a greater bond with your dog through positive fear free training methods.
"Pumpkin and I really enjoy Cyndy's classes. We work in different locations every week. I feel that Pumpkin is getting better with every session. Not only is Pumpkin becoming more confident, I am becoming more confident too. Cyndy is very knowledgeable about scent work."
- Charles Haker